Get ready for SPI, ESI, and Smart Energy Week by traveling down on our Road to New Orleans. Here you'll find links to additional upcoming events, book and movie club discussions, and fun New Orleans-themed activities you can do at home.
produced by Suncast Media
How can NEM be a value to all installers, home owners, and utilities?
August 11 | 2:00 pm ET
Moderated by Suncast Media's Nico Johnson, The Great Solar Debate features clean-energy thought leaders sharing two contrasting perspectives on critical solar and storage topics.
Microgrid Workshop Series
Hybrid Nano/Microgrids: Physical and Economic Modelling and Analysis - This workshop series reviews the most current trends in laying an effective foundation for microgrid power and energy standards that becomes the roadmap to energy market participation.
Smart Energy Market Tours
SPI is bringing the Smart Energy Market Tour to the Carolinas in April 2021, partnering with CED Greentech to bring safe-sized, outdoor roadshow events to the region. Your local farmers market for the energy industry.
Digital Discussions
Hear from industry leaders about the latest trends and challenges in solar, energy storage, and the integration of renewable energy sources into today's grid.
Book & Movie Club Discussions
...
Solar Power Events is very excited to partner with Eco.Logic for a series of book and movie club conversations around energy and broader climate topics. We realize how much our community misses each other, so this is an opportunity for intimate networking on issues that impact our industry and us as individuals. Our club will meet the third Wednesday of every other month at 8:30 pm est via Zoom. All are welcome! 2021 dates below:
If you are buying your books or renting movies through Amazon, please indicate EcoLogic as your charitable organization, and they will receive 0.5% of your total purchases at no extra cost to you.
...
Next Movie Club Discussion
Mossville: When Great Trees Fall
July 21, 2021
As a centuries old black community in Louisiana, contaminated and uprooted by petrochemical plants, comes to terms with the loss of its ancestral home, one man standing in the way of a plant's expansion refuses to give up
Next Book Club Discussion
All We Can Save
September 15, 2021
Edited by Dr. Ayana Johnson and Katharine Wilkinson, All We Can Save is a collection of provocative and illuminating essays from women at the forefront of the climate movement who are harnessing truth, courage, and solutions to lead humanity forward. Whether you've read the book in its entirety or not, feel free to join us for a discussion!
If you happen to purchase this book on Amazon, please shop via smile.amazon.com and indicate Ecologic as your charitable organization. Through this, Ecologic receives 0.5% of your total purchases at no extra cost to you.
GoNOLA How-to: The Sazerac 
The Sazerac is considered the official cocktail of New Orleans. Check out this how-to from the historic Sazerac Bar at the Roosevelt Hotel to learn how to make your own.
GoNOLA Eats: Guide to Gumbo
Watch as New Orleans Chefs Kevin Belton and Isaac Toups make land- and sea-based gumbos. For the full low-down on gumbo and New Orleans' best traditional foods, click below.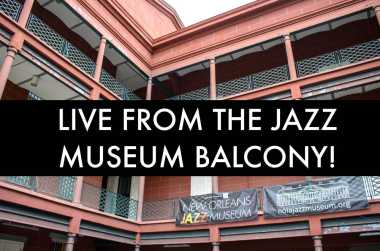 Virtual Concerts
Enjoy jazz at home with the New Orleans Jazz Museum's weekly Courtyard Live-stream Concert Series. Dynamic musicians perform live from the balcony! Every Tuesday at 5 pm CT.
Thank you Road to New Orleans partners