GRID Alternatives, a national solar nonprofit, and Women of Renewable Industries and Sustainable Energy (WRISE) are teaming up with RE+ to provide a dedicated space for job seekers and clean energy companies to connect! This is a national event, with registration open to any employers looking to hire in the US, but will have a strong emphasis on the Southern California solar job market.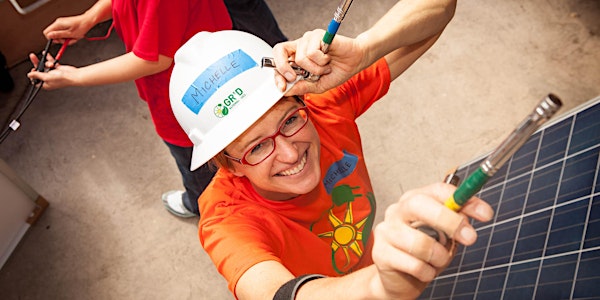 WHAT: Clean Energy Job Fair
WHEN: Wednesday, September 21, 2022
TIME: 11:00 am -3:00 pm PT
WHERE: Hilton Anaheim - California Ballroom C
COST: Free and open to all job seekers. Employer booths are available starting at $300.
JOB SEEKERS: Now's your chance to meet with top industry employers to start your clean energy career or take it the next level.
EMPLOYERS: Get in front of talented job seekers! Don't miss your chance to participate in the Clean Energy Job Fair to meet, interview, and hire diverse and talented job seekers.
Clean Energy Job Fair Presented By
About GRID Alternatives
Renewable energy can drive economic growth and environmental benefits in communities most impacted by underemployment, pollution and climate change. GRID Alternatives is a national leader in helping economic and environmental justice communities nationwide get clean, affordable renewable energy, transportation, and jobs. Internationally, our energy access work is lighting up off-grid communities in Nepal, Nicaragua, and Mexico. GRID envisions a rapid, equitable transition to a world powered by renewable energy that benefits everyone.
About WRISE
Women of Renewable Industries and Sustainable Energy (WRISE) is a national nonprofit working across the renewable energy economy with a broad purpose – to change our energy future through the collective power of community. Our mission is to accelerate the transition to a sustainable and equitable energy future by igniting the collective power of community. Through building community, promoting education, and cultivating leadership, WRISE works to recruit, retain, advance and inspire systemically excluded communities in pursuing a sustainable and equitable future.